Together we can raise awareness about sexual assault through advocacy and education.
During April, we engage in education and dialogue aimed at eradicating sexual violence. It is also a time when we hold space for the survivors and honor our community members who have experienced trauma.
The theme of Sexual Assault Awareness Month 2023 is "Drawing Connections: Prevention Demands Equity." This April's campaign calls on all individuals, communities, organizations, and institutions to change ourselves and the systems surrounding us to build racial equity and respect.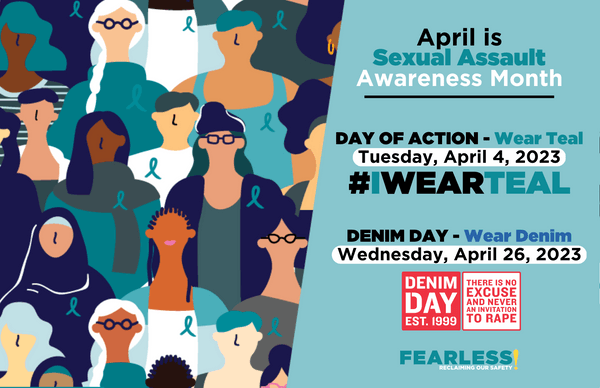 Wear Teal on the Day of Action - Tuesday, April 4th
Chances are someone in your life is a survivor of sexual harassment, assault, or abuse, even if they have never shared their story with you. Show your support for survivors of sexual harassment and abuse by wearing teal,  the color of sexual violence prevention, on the first Tuesday in April, and post a selfie to social media using #SAAM2023. By wearing teal, you are signaling that you support survivors and are a safe person to talk to. 
Wear Denim on Denim Day- Wednesday, April 26th
Wear denim as a visible means of highlighting society's misconceptions surrounding sexual abuse on the last Wednesday in April and to help combat victim blaming and educate others about sexual violence. We also wear denim in solidarity with sexual abuse victims and in remembrance of the 1998 Italian Supreme Court overturning a rape conviction because "the victim wore very, very tight jeans, she had to help him remove them, and by removing the jeans, it was no longer rape but consensual sex."