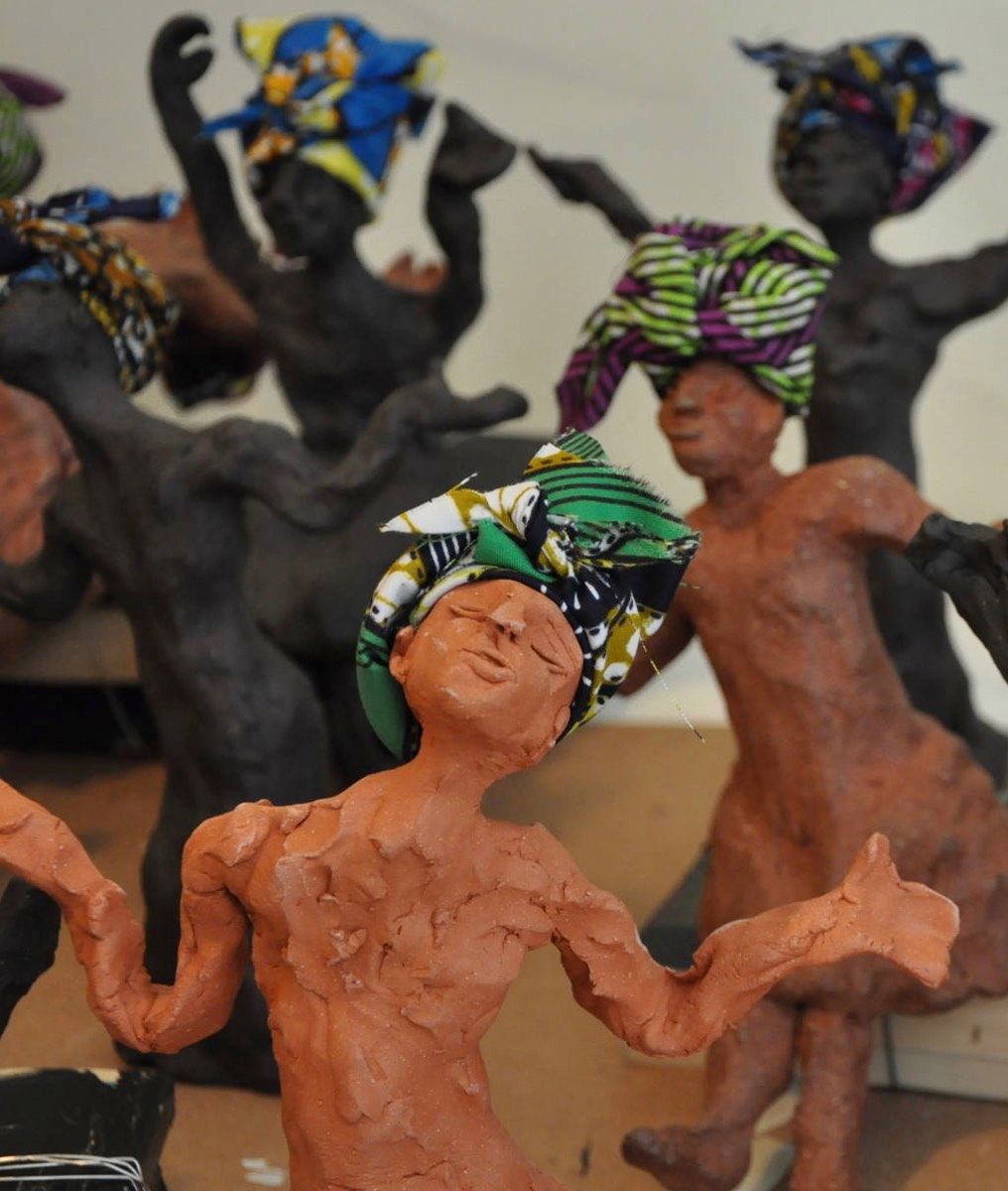 First Large-Scale Installation of THE CHIBOK PROJECT
on View at The Apple Barn in Callicoon, NY October 23-25
Opening Event October 24 from 3-6 pm will be safely socially-distanced
in 2,400 square foot space and feature video, speakers, and music.
In the summer of 2014, after the Boko Haram kidnapped 276 schoolgirls in Chibok, Nigeria, North Branch artist Angela Fremont began working on a project about these girls. Moving from drawings to ceramics, Fremont has been making clay and textile figures to represent each of the 276 girls, both to individualize their humanity and demonstrate the scale of the horrific abduction. The Apple Barn art exhibit in Callicoon, NY, will be the first large-scale installation of "the girls" as Fremont calls the dramatic unglazed ceramic sculptures that she has been making for over five years. The Chibok Project exhibition will be on view October 23-25 from 1-6:00 pm at The Apple Barn on 51 Creamery Road in Callicoon, New York. Admission is free, and wearing a mask is required for entry. The opening event is October 24th, from 3-6 pm.
Sexual violence against women and girls is a global tragedy, and bucolic upstate New York is not exempt. Fremont explains, "my own first-hand experience with domestic violence as a child is the source of my identification with the girls. As a feminist and artist, The Chibok Project is a continuation of themes I have explored in my work in many mediums over decades."
The opening event will include remarks by Dr. Theodora Kay-Njemanze, a Nigerian doctor who works at Montefiore Hospital in the Bronx while supporting education for girls in Nigeria. Kellyann Koystal-Larrier, Executive Director of Fearless Hudson Valley, will also speak, and representatives from that organization will be on hand with information about domestic violence in Orange and Sullivan counties and available resources for support. The event will also include a video presentation, live music, and refreshments.
Fremont, an art teacher in the New York City public school system for 24 years, taught 850 immigrant elementary school children from five continents each semester. Her classrooms were filled with boys and girls from countries and cultures as different at China, Egypt, Russia, Mexico, Morocco, and Cape Verde Islands, more than 60 % who come to school not knowing English. "Art is how the children could express their emotions and their stories," Fremont said, "and so it felt right to me to try to capture through art what I saw in photographs of the Chibok girls who were finally recovered. These girls are survivors of a tragedy. I knew I had to make the girls three-dimensional to bring each one to life, faces and arms reaching upwards in hopefulness, and asking why?"
Dr. Theodora Kay-Njemanze is one of the fortunate Nigerian girls who received a good education. She is an alumnus of the Queens School in eastern Nigeria, established almost 70 years ago to educate girls who could contribute to the country's economic development emerging from colonial rule. While the Queens School thrived in its first decades and produced young women living worldwide, its funding plummeted. An active alumni group that includes Dr. Kay-Njemanze is working to restore the school and again advance girls' education. "The majority of girls and children in Nigeria are poor, with wealth for just a few," says Dr. Kay-Njemanze. "Because of this, up until today, going to high school is a big deal in rural areas. The Chibok Project brought back to me the jolt of that kidnapping. The terrible reality of children taken from their school and life. I am supporting the Chibok Project because I want to bring to light the predicament of these girls, and there are many more girls who have been killed and raped who are not in the newspapers anymore."
While admission to the exhibition and its opening event is free, Angela is hoping that people will be moved to make donations to The Chibok Project and its goal to build art-making tents in a refugee camp, a safe space where an artist will guide both adults and children in art-making activities. "I am grateful to Wayne Petrucelli and Meloney Birkett-Petrucelli, local Callicoon residents, who are making The Apple Barn available for this exhibition. Mr. Petrucelli, who is currently in Alabama doing relief work for Hurricane victims, and his wife are so generous to give their space to local nonprofits. I'd would also like to thank Phoenix Kelly-Rappa and The Spirits Lab in Newburgh for refreshments for the exhibition opening and will donate the proceeds to The Chibok Project." Fremont will also have various art, ranging from postcards of the girls to small ceramic figures, available as thanks for donations at various levels to benefit the project. For those who can't attend, donations can be made at https://chibokproject.angelafremont.com/page-10/