Providing Life-Saving Services, Empowering Survivors, Educating Our Community, Demanding Change
We hope you will join us at this limited-seating event on Sunday, October 1st, as we celebrate and honor individuals from the Hudson Valley for their commitment to our work. We humbly acknowledge the impact of past and current donors and sponsors in advancing the mission of FEARLESS! and we invite you to rededicate your support of the work we do every day.
---
OUR 2022 CELEBRATION OF HOPE SPONSORS
---
OUR 2022 CELEBRATION OF HOPE HONOREES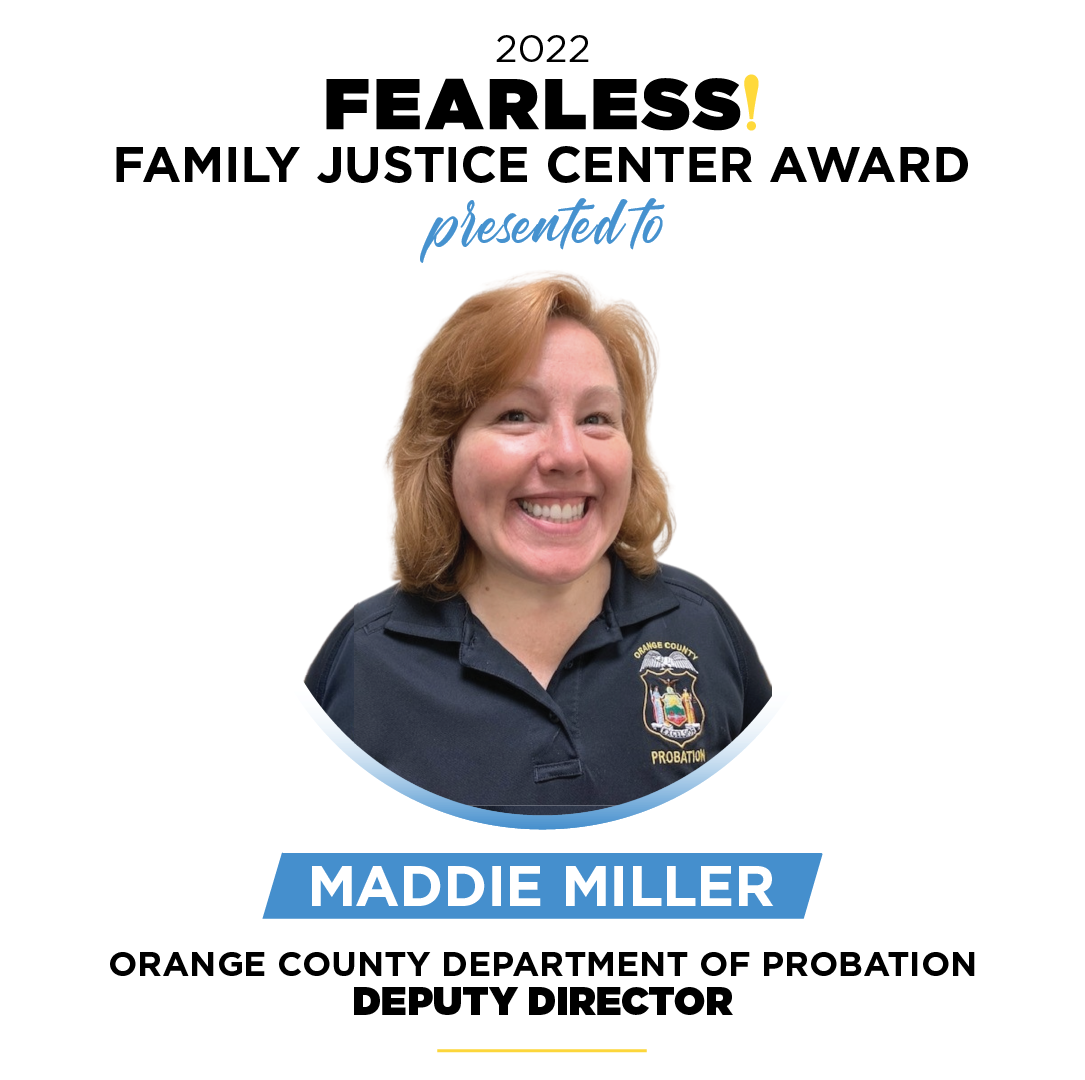 In recognition of the difference Maddie Miller has made in the lives of adults and children affected by domestic violence, it is our great privilege to honor her with the 2022 Family Justice Award.
Among Orange County's criminal justice community, Fearless! advocates have long recognized Maddie as a leader. Her commitment to her role within the system and her response to domestic and sexual violence overall is one of the many reasons to celebrate Maddie and her work. Since deepening our collaboration in 2016, we witnessed her personal and professional investment in connecting to Fearless!  and seizing all training opportunities.  Maddie has worked tirelessly to support the creation of policies and procedures that enhance her department's response to domestic violence. 
Thus, it is with great pride that we prepare to publicly recognize you for what she does in our community and for being part of the solution.
Maddie grew up in the Finger Lakes and moved to Orange County after graduating from SUNY Cortland in 1990 with a BA in Spanish. She has worked for Orange County for over 30 years, starting her career in Social Services. Maddie began working in the Probation Department 17 years ago, initially working with Adjudicated PINS (Persons in Need of Supervision) and Juvenile Delinquents and later with adult criminal offenders. She was promoted to Probation Supervisor in 2015 and was appointed Deputy Director in 2021.
Since its inception in 2016, Maddie has been the point person from the Probation Department for the Risk Reduction Response Project, working collaboratively with Fearless! Hudson Valley, the Orange County District Attorney's Office, and the City of Newburgh Police Department to identify those at the greatest risk of lethality and connect them to an advocate as soon as possible. Maddie has shown an incredible initiative to attend all training opportunities provided by the Risk Reduction Response Program grant in order to improve practices in the Probation Department to achieve our collective goal of community safety and offender accountability.
Maddie lives in Circleville with her husky-mutt, Daisy, and he has two adult children: Heather, married to Chris, and Anthony. In her spare time, Maddie enjoys traveling the world with her life partner, Mark McCartney, with the goal of visiting all 50 states and all seven continents.
-------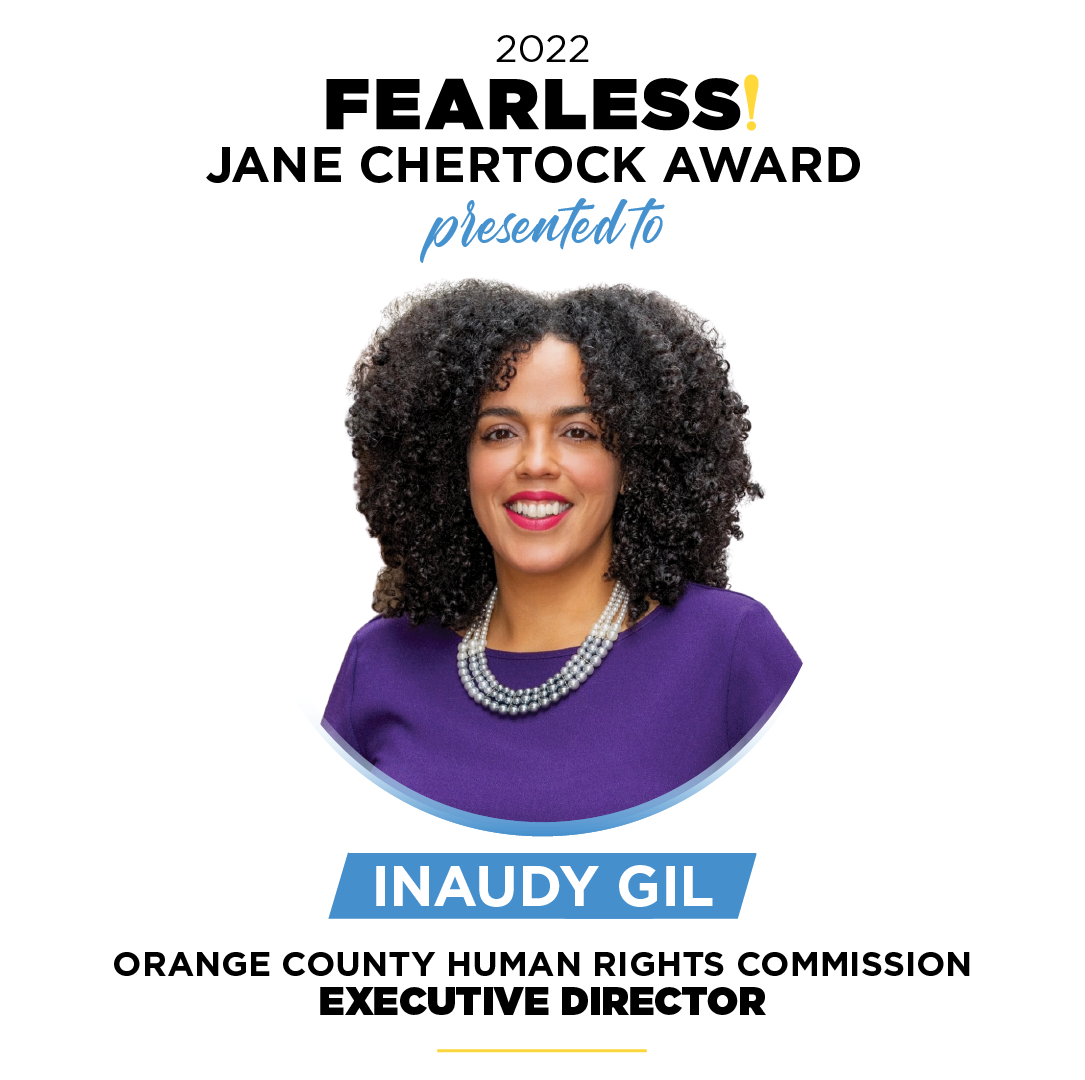 In recognition of the difference Inaudy Gil has made in the lives of individuals and families affected by abuse and violence throughout her personal and professional life, it is our great privilege to honor Inaudy with the 2022 Jane Chertock Legacy Award.
Inaudy Gil, MS, has been in her role as the Executive Director of the Orange County Human Rights Commission for over five years. Born in the Dominican Republic, Inaudy immigrated to the United States as a child and has lived in the Hudson Valley since 2003. Inaudy holds a Master's in Science from SUNY Hunter College and an Executive Certification for Diversity and Inclusion from Cornell.
Inaudy has worked tirelessly for over 20 years on eliminating oppression, racism, sexism, homophobia, and gender inequality in her community. Her expertise includes working in social justice, diversity, equity, accessibility and inclusion, and gender violence issues, namely intimate partner violence, sexual assault, and human trafficking. Inaudy has also been an English as a Second Language Instructor at SUNY Orange for over ten years. Inaudy has volunteered her time and knowledge on numerous state and local boards and committees, including serving on the Boards of Directors for:
Cornerstone Family Health Center - currently
Desmond Center for Community Engagement and Wellness - currently
Community Foundation of Orange and Sullivan - currently

New York State Coalition Against Sexual Assault

Leadership Orange

Orange County Cultural Equity Task Force

Newburgh Ministry

The Orange County Coalition Against Domestic Violence

Northeastern NY Coalition of Crime Victim Service Providers
She also sits on the Orange County Think Differently Committee, the Welcome Orange Initiative, the Diversity Equity and Inclusion Committees for Pattern for Progress, and the Orange County Chamber of Commerce, where she is Chair. Inaudy has been recognized numerous times, including:
Orange County Woman of Achievement 2014

Orange County Democratic Women's Committee 2018

Orange County Rising Star Award Recipient 2018

New York State Latino Rising Star 2018 by the New York State Hispanic Coalition

Prominent Dominican in New York State 2022 by NYS Dominican Assembly Caucus
She is a sought-after speaker and has presented at numerous conferences, including at the 2018 TEDxNewburgh, where she discussed diversity and privilege in her talk "Turning Differences into Strengths".
Inaudy attributes her drive and accomplishments to her parents, who instilled the importance of work and sacrifice. Above all, her most important title and role is serving as the mother of her three amazing children, Gabriel, Allie, and Javier- who are being proudly raised in a household where equity and respect for everyone is the norm and differences are celebrated.
-------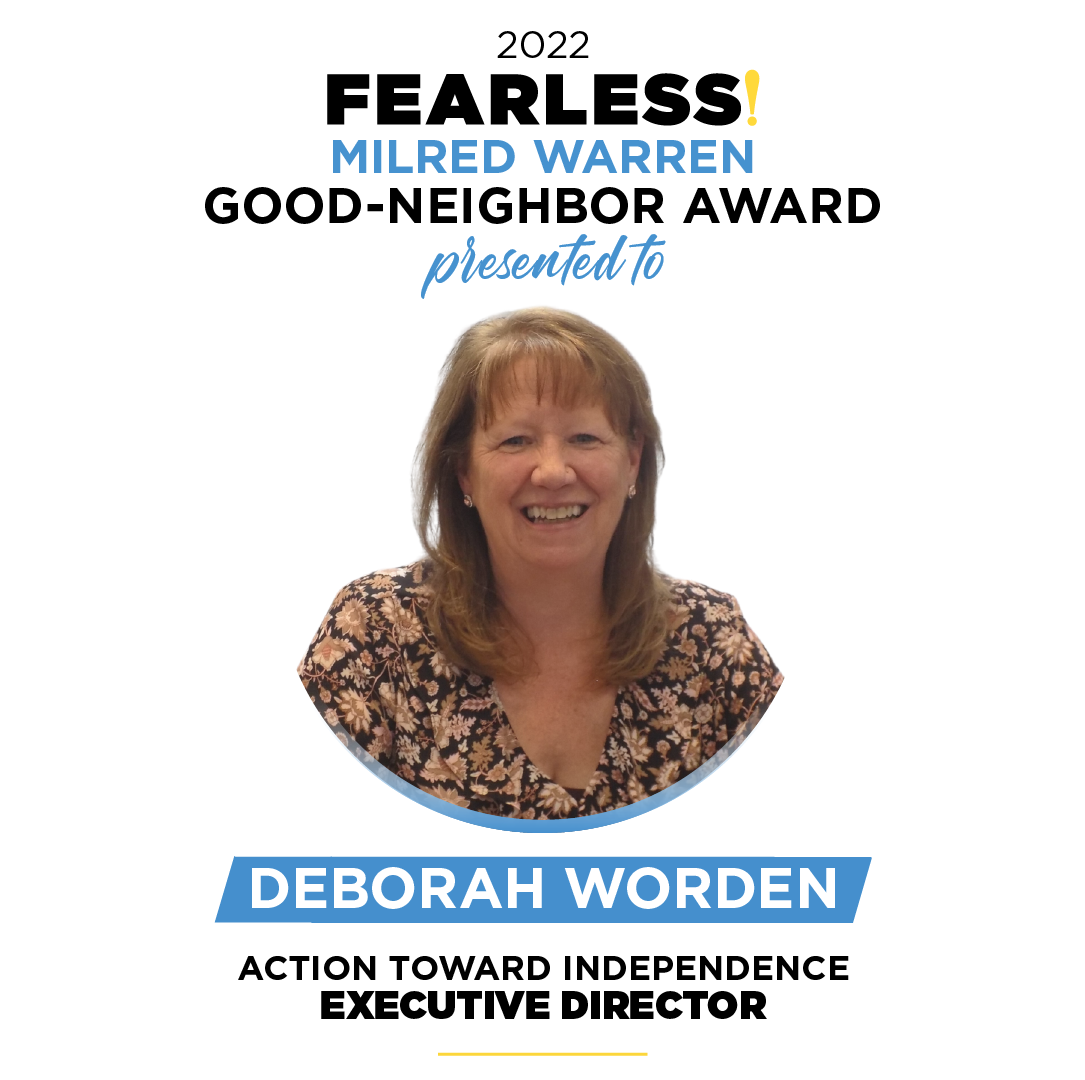 In recognition of the difference Deborah Worden has made in the lives of individuals and families affected by domestic violence, it is our great privilege to honor her with the 2022 Mildred Warren Good-Neighbor Award.
We can hardly express our gratitude for the ease of mind brought on by our partnership in Sullivan County. Her generosity and graciousness in welcoming us into the community, providing support, and building collaborative services have directly contributed to our growth and success within the Sullivan community.
Deborah Worden is the Executive Director of Action Toward Independence (ATI), a 501(c)(3) nonprofit Independent Living Center. With offices in Sullivan and Orange County, her agency serves people throughout the Hudson Valley. Having personal experience with disabilities, it was a natural fit when she came to ATI. Since joining ATI, Deborah has been responsible for obtaining grant funding and other resources that have significantly increased the agency's capacity.
Growing up in a small rural town in Sullivan County, "community service" is a concept ingrained in Deborah. She volunteered for her local church, fire department, and school library during her formative years. She's learned about grassroots organizing and "how many hands make light work." As time passed, she donated her time to multiple community organizations, including volunteering for a residential substance abuse treatment program for teens and a rape crisis hotline for eight years. She is the Secretary of the Equinunk Volunteer Fire Company, a position she's held for the past 18 years and is the 2nd Lieutenant of the Sullivan County Civil Air Patrol Squadron.
Deborah has utilized her passion for Human Services to drive her career path. She has worked in Sullivan County Public Health, Sullivan County BOCES, Cornell Cooperative Extension of Sullivan County, and Achieve Nursing Facility, where she was the Director of Volunteer and Community Services. Concurrently, she ran a successful grant-writing business in Pennsylvania, where she helped Volunteer Fire Companies obtain over one million dollars in funding.
Representing the organization, she is serving on the Boards of Directors for:
SALT (Sullivan Allies Leading Together)

Secretary of the Hudson Valley Collective for Community Wellness (HVCCW)

The Sullivan County Public Health Advisory Council

RSVP Advisory Council

Secretary for JMHCA (Joint Membership of Health and Community Agencies)

Committee for Equity and Justice

Hands4Health Network
In addition, Deborah is a member of the NYS Regional Racial Justice Advisory Council and the Balance of State Continuum of Care Steering Committee through the Office of Temporary Disability and Assistance, working to help respond to the current housing crisis. Deborah continues to take pride in supporting her community by creating innovative programs that support the Independent Living Philosophy.
-------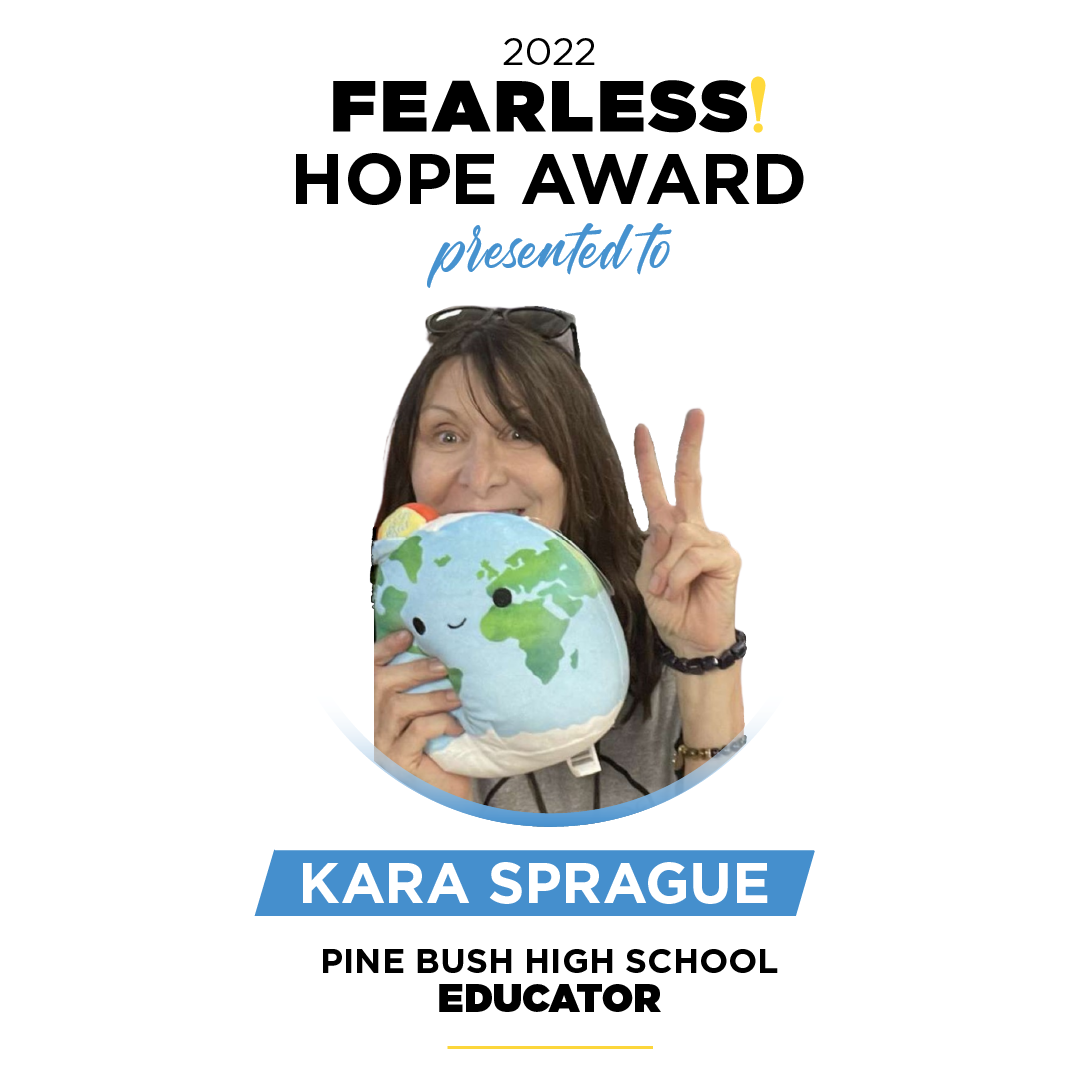 In recognition of the difference Kara Sprague has made in the lives of youth and families affected by dating and domestic violence, it is our great privilege to honor her with the 2022 Hope Award.
The Fearless! education team has witnessed first-hand Kara's genuine care and concern for her students and her keen awareness of the impact of teen dating and gender-based violence in our communities. Kara has opened many doors to facilitate related training, education, and prevention among her students and fellow educators and across her school district.
We are especially grateful to Kara for expanding our collaboration beyond our 8-week MVP program into a weekly meeting space for Fearless! and her YESS students to collaborate, plan, and support students with the bystander empowerment perspective of their work. Without her engagement, this kind of connection and the opportunities that continue to ensue could take years to develop.
Kara arrived at Pine Bush High School as a science teacher in 2001 - 2002. She has spent many years experimenting with college degrees, including a BS in Criminal Justice and Biology, a Master's in Teaching, and employment including a DJ, UPS driver, Gold's Gym trainer, and wildlife biologist; she never expected to have teaching as her career. Twenty-one years and thousands of students later, Kara says, "I can say teaching is not only my career but my passion".
As a science teacher, she began teaching Regents Biology and Forensic Science. Four years ago, Kara was approached by the principal, Aaron Hopmayer, and asked to teach a new science elective that would encompass activism, sustainability, and action. From this idea, the Youth Empowerment and Sustainability Skills or YESS Class was created. Since 2018, students at Pine Bush High School have participated in many other programs designed by or supported by Kara.
Fearless! 's Mentoring in Violence Prevention (MVP) program

Creating awareness on violence prevention school with Wear Purple Day

'Say Something Week' to learn how to prevent violence against self and students

Created a Wellness Garden, Zen Garden, and Pollinator Garen in the school courtyard

Leaving positive messages on windows and walkways to make a positive school environment

Created 'Love and Kindness Spirit Week' and numerous other positive changes in the school community and world.
In her spare time, she coaches her son's mountain biking team, Catskill Claws, and participates in cross-country and downhill mountain biking. Because she loves being in the woods and nature, she also hikes kayaks and snowboards and seeks out rope courses, zip lines, and white-water rafting. She loves all animals and is an environmentalist, NYS wildlife rehabilitator, and vegan. Her son, Talon, and she spend as much time as they can outside engaging with nature., sharing their home with their three cats, Sunset, Storm, and Zen, and sharing their yard with a family of 4 raccoons, some rescued mice, deer, bears, porcupines, squirrels ravens, and other birds.