Volunteer support is crucial in enabling us to achieve our mission of providing services and support to those in our community who are impacted by intimate partner violence, teen dating violence, human trafficking, and sexual violence. Given the work that we do and the need to protect the confidentiality of the individuals and families that we serve, the process for volunteering at Fearless! may look different from that of other non-profit agencies. 
All volunteers and interns are required to complete our 30+ hour training and orientation prior to working any volunteer hours with our program. We offer training sessions several times throughout the year.
Have questions? We are happy to answer them. Please email us. 
When held in person, five full days of training are spread out over three weeks during regular business hours (9 am-5 pm). There are eight to ten 3-4 hours training sessions when held virtually via Zoom. This page and our volunteer applicants will receive notice when the next training session is confirmed.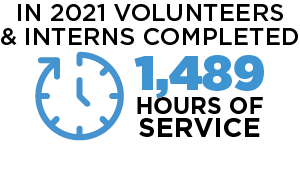 Volunteer Information Session
To begin the process, please attend a Volunteer Information Session, usually held five weeks prior to the next training and orientation. All volunteers must attend an information session prior to enrollment in our training session. Volunteers and Interns must also complete a Volunteer/Intern Application (see the link to download below).  Once the application is submitted, Internship applicants will be contacted for a formal interview prior to the start of the training session.
Volunteer hours are available in Newburgh at our Family Justice Center and Administrative Office, Monday through Friday during normal business hours. Volunteer hours are sometimes available evenings and weekends at our residential program but may require additional training. Hotline and webchat support volunteer hours are available remotely on evenings, overnights, weekends, and holidays and require additional training.  
Internships
We are currently accepting Undergraduate and Graduate internship applications for Fall 2022 and Spring 2023. Masters-level internships require a two (2) semester commitment of at least three days per week, and very limited spots are available.
Have questions? We are happy to answer them. Please email us. 
Download the application:
Examples of Volunteer Opportunities
Hotline & Webchat Support

Sorting and Organizing Donations

Upkeep of Food/Supplies Pantry

Interpreter / Translation Assistance

Fundraising / Community Outreach

Court Accompaniment Requires additional intensive training.