What is Human Trafficking?
Human trafficking occurs on an international, national, and local level. Whether you live in a small town or a large city, human trafficking can be happening in your own backyard or apartment building.
Human trafficking uses force, fraud, and/or coercion for the purpose of sexual exploitation or forced labor. Contrary to popular belief, as defined by law, human trafficking does not necessarily involve moving people across borders. There are many millions of victims worldwide, with estimates of 600,000 to 800,000 people being trafficked in the U.S. alone.
Traffickers are able to exploit their victims in various ways, such as through sex work, forced labor, or organ removal and selling. Sex trafficking, in particular, is a multi-billion dollar industry, where the world is its market. Human beings who are trafficked get treated as disposable, humans become comparable to raw materials that can be bought and/or sold.

---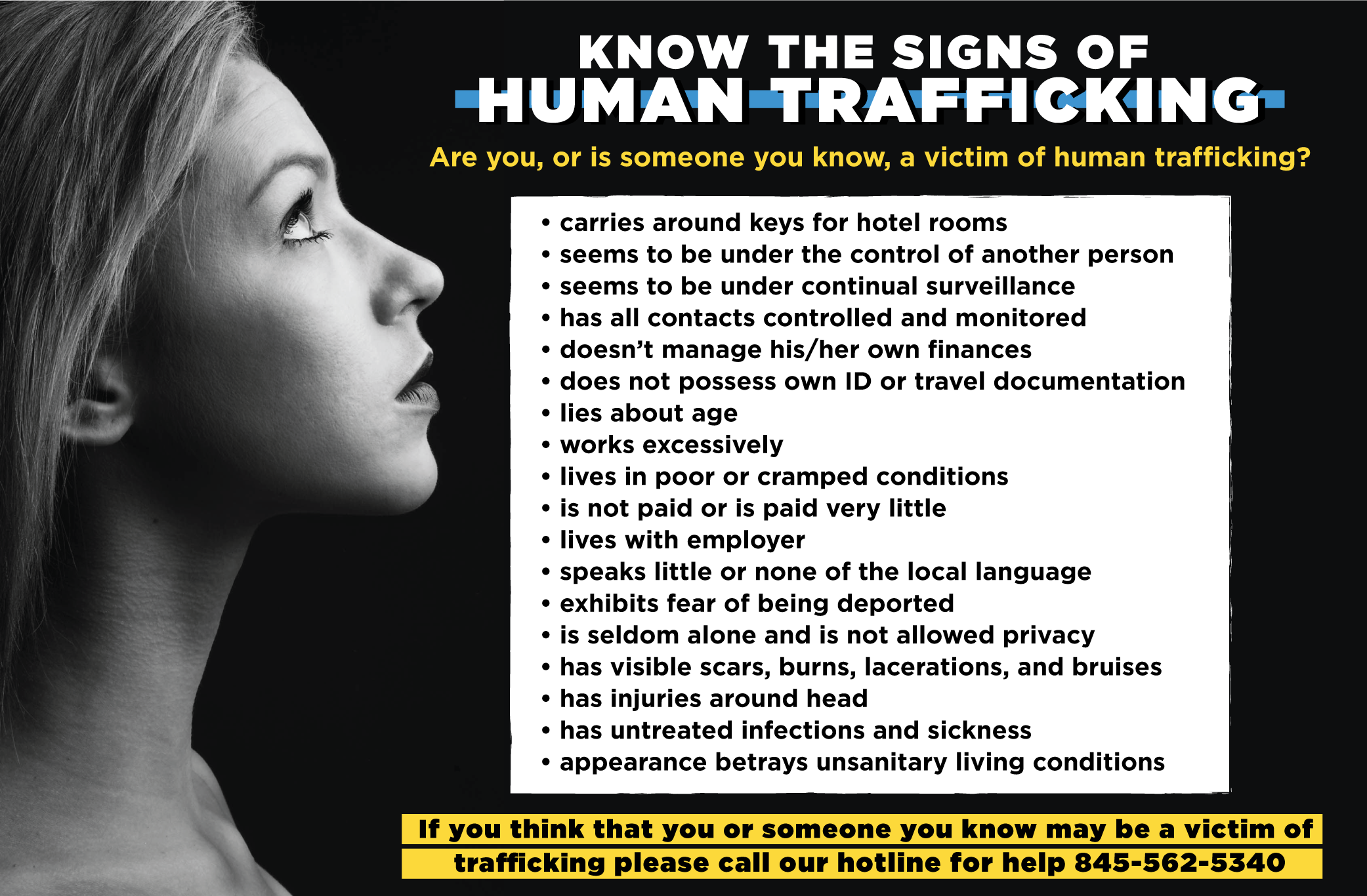 ---
Who Are the Victims?
Human Trafficking is a hidden crime and greatly under-reported. Within the U.S., women, men, and children fall prey to traffickers who often threaten their lives and those of their families and isolate victims making it impossible for them to escape. Many victims trafficked in the U.S. do not speak or understand English and are unable to communicate to ask for help.
Sex Trafficking: Victims of sex trafficking can be found working in massage parlors, brothels, strip clubs, escort services, and on the streets. They are often children or teenagers lured by false promises and, ultimately, forced into prostitution.
Labor Trafficking: Victims of labor trafficking can be found in both domestic and non-domestic situations, in various jobs, such as; nanny and maids, in factories, janitorial jobs, restaurants, hair and nail salons, in street sales, and on farms and construction sites. The victims are trapped into a cycle of debt, forced into involuntary servitude, debt bondage and slavery.
Minors: More than 50% of victims worldwide are estimated to be under the age of 18.  Under U.S. law, any person under 18 involved in the commercial sex industry is considered a Human Trafficking victim.
---
Recognizing the Signs of Human Trafficking
Person carries around keys for hotel rooms;

Person seems to be under the control of another person;

Person seems to be under continual surveillance;

Person has all contacts controlled and monitored;

Person doesn't manage his/her own finances;

Person does not possess own ID or travel documentation and lies about age;

Person works excessively;

Person lives in poor or cramped conditions, such as multiple-occupation household;

Person is not paid or is paid very little;

Person lives with employer;

Person speaks little or none of the local language;

Person exhibits fear of being deported;

Person is seldom alone and is not allowed privacy;

Person has visible injuries such as scars, burns, lacerations, and bruises;

Person has injuries around head, including the face, nose, and mouth;

Person has untreated infections and sickness;

Person's appearance betrays poor health and unsanitary living conditions;

Person exhibits drug use;

Person exhibits compliant, fearful, panicky behavior.
---
PLEASE, REPORT ANY SUSPICION OF AN EXPLOITIVE SITUATION.
If you think that you or someone you know may be a victim of human trafficking,
please call our confidential 24-hour hotline at 845-562-5340.
You can also contact the National Human Trafficking Hotline by calling 1-888-373-7888 or texting 233-733.