---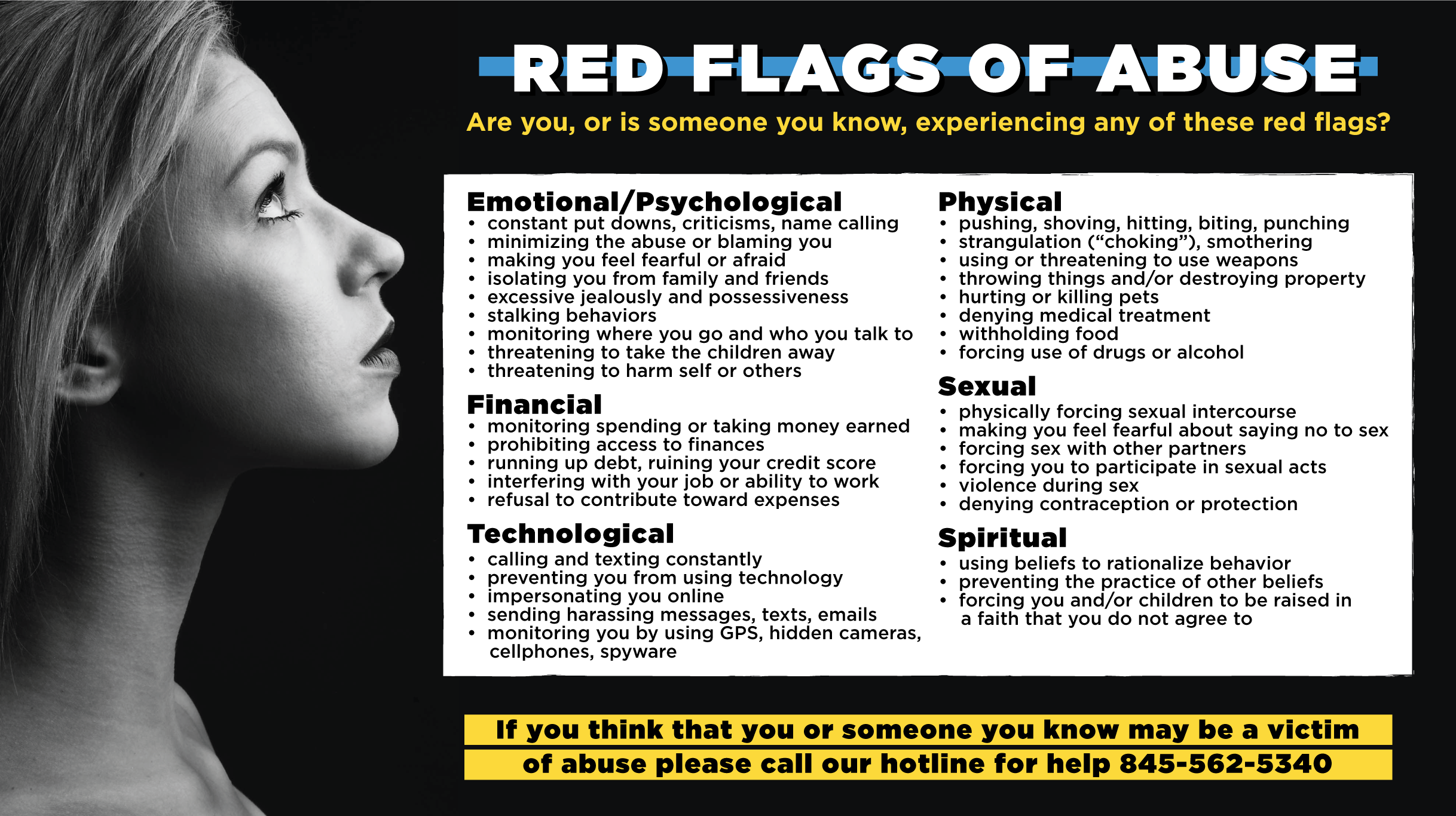 ---
Red Flags and Warning Signs
Based on your current experience, answer 'Yes' or 'No' to the following questions to help identify if you are being abused: 
Does your partner:
Embarrass or make fun of you in front of your friends or family?
Continually criticize you, call you names, or insult you?
Expect you to ask permission?
Threaten to hurt you, the children, your family, your pets, or themselves?
Isolate you from your friends, family or your job?
Accuse you of cheating or is often jealous of your outside relationships?
Control you with money?
Put down your accomplishments or goals?
Act jealous, possessive, or not trust you?
Make you feel like you are unable to make decisions on your own?
Prevent you from calling the police or seeking medical attention?
Use intimidation or threats to get you to comply?
Use a weapon to threaten or hurt you?
Degrade you and tell you that you are nothing without them?
Damage property when angry?
Push, slap, bite, kick, or choke you?
Hurt your children?
Constantly call you or show up where you might be with the intent to check if you are telling the truth about where you are?
Use drugs or alcohol as an excuse for saying hurtful things or abusing you?
Blame you for how they feel or act?
Pressure you sexually for things you aren't ready for?
Make you feel like there "is no way out" of the relationship?
Prevent you from doing things you want – like spending time with your friends or family?
Force or manipulate you into to having sex or performing sexual acts?
Try to stop you from leaving after a fight?
Demand sex when you were sick, tired, or after beating you?
Ignore your feelings about sex?
Do You: 
Sometimes feel scared of how your partner will act?
Constantly make excuses to other people for your partner's behavior?
Believe that you can help your partner change if only you changed something about yourself?
Try not to do anything that would cause conflict or make your partner angry?
Feel like no matter what you do, your partner is never happy with you?
Always do what your partner wants you to do instead of what you want?
Stay with your partner because you are afraid of what your partner would do if you broke up?
If you answered yes to any of these questions, it is likely you are experiencing abuse. You are not alone: our advocates are available to help you 24-hours a day. Pick up the phone and call our hotline at 845-562-5340.
If you think that you or someone you know may be a victim of interpersonal violence, please call our confidential 24-hour hotline at 845-562-5340.
---