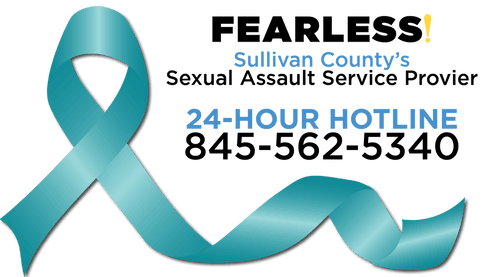 On April 1, 2021, the Rape Intervention Services and Education (RISE) Program of Sullivan County transitioned to
Fearless! Sexual Assault Services
Fearless! is here to support anyone in Sullivan County suffering the physical, emotional, and medical impacts of rape and other sexual trauma. We provide crisis intervention 24 hours a day, 7 days a week, by trained staff and volunteers who provide understanding and confidentiality to all callers.
Services for Children, Teens, Women, and Men
24-Hour Crisis Sexual Assault Hotline:  (845) 562-5340
Information and Referral
Callers receive factual information on a variety of community agencies that are available for further assistance. The staff counselor identifies the caller's needs and provides appropriate referrals, including phone numbers and addresses, so individuals may secure the help they seek.
Support Groups
Support groups meet at the Fearless! Sexual Assault Service Office under the direction of a trained professional in an atmosphere that encourages them to talk through their traumatic experiences and to help one another in their recovery. Day and evening groups are offered.
Trauma Recovery & Empowerment
Victim to Survivor
Incest Survivor
Counseling
The professional staff at Fearless! gives confidential counseling to survivors, their families, and their friends.
Police, Court and Emergency Room Advocacy
Trained volunteers are available to victims and their families to provide information and support through medical and legal processes.
Education Programs
Fearless! offers a variety of workshops and programs for students, educators, law enforcement personnel, and human services professionals. Upon request, workshops for schools, churches, civic and social groups are also conducted. Our Education Programmings are tailored to meet specific group needs and requests. Programs can include video clips, role-playing, group discussion, and interactive group participation.
Fearless! education programs address common myths, attitudes, and stereotypes that can lead to sexual violence.
Workshops and programs can include:
Healthy Relationships
Sexual Harassment
Date/Acquaintance Rape
Sexual Assault
Good Touch, Bad Touch, Confusing Touch
Sexual Health
Education is the key to preventing sexual abuse!
What To Do After a Sexual Assault
It's hard to know what to do, how to feel, or what your options are after a sexual assault. Please know that you are not alone and that what happened was not your fault.
Your safety is important.
If you're not feeling secure, consider reaching out to someone you trust for support. You do not have to go through this alone.
If you are in immediate danger or seriously injured, call 9-1-1.
Go to the emergency department as soon as possible.
You may have injuries that are not visible. Delays can complicate treatment and if desired, evidence collection. It is important to go to the emergency department as soon as possible.
If possible, bring a change of clothes. Do not change clothes, bathe or brush your teeth if you wish to have evidence collected. Evidence can be stored for 30 days while you decide if you want to file a police report or press charges.
If you do not have safe transportation available, dial 9-1-1. Explain what has happened to you and ask to be taken to an emergency department for medical care. If you feel unsafe, ask for police protection and assistance.
Children will be evaluated locally. Some patients may be transferred to a SAFE Center hospital where a pediatric sexual assault forensic examiner is available.
If you have any questions, call theFearless! hotline to speak with a trained advocate 24/7: (845) 562-5340
----
Volunteer Training
Volunteers receive 30 hours of initial training on rape and sexual assault. The training allows them to anticipate victim reactions and to provide referral sources. Volunteers receive an additional 10 hours of in-service training each year. To apply visit: fearlesshv.org/volunteer