The mission of Fearless! Hudson Valley, Inc. (formerly known as Safe Homes of Orange County) is to build an informed, just, and accountable society so all people can experience supportive and safe relationships free from abuse, exploitation, and oppression.  
We do this by education, prevention, advocacy, and providing comprehensive services, including shelter, to victims and survivors of interpersonal violence, human trafficking and sexual violence, and other types of crime victimization. 
---

Fearless! envisions being the leading authority on interpersonal abuse and violence, collaborating with other agents of change in dismantling inter-sectional individual and systemic oppression. 
---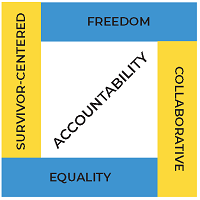 Freedom  safety, dignity, respect
Survivor-Centered autonomy, agency, confidentiality, compassion
Equality anti-oppressive, intersectional, equity
Collaborative education, prevention
Accountability commitment to all
---

We were founded in 1986 over a kitchen table by people who wanted to make a difference. We now are the only private, not-for-profit agency in Orange and Sullivan Counties in NY dedicated to assisting survivors of domestic violence, teen dating violence, and human trafficking by providing free and confidential services.
See our impact and how we've grown:
---
Trained advocates are available 24/7 to provide support, information and referrals to victims and their families, and community members. Call our crisis hotline at 845-562-5340.
If you are a business, organization, or member of the community and would like additional information on our agency, please call our main office during normal business hours at 845-562-5365 or send an email.